NDT Non Destructive Test Kit Detect Hairline Fractures Pin-Holes or Cracks in Welds, Pipelines, Casings, Tanks and Structures
Detect surface flaws and leaks in tanks or other critical welded surfaces using our three part non destructive test kit.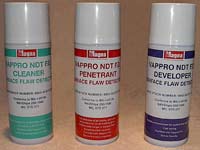 Easy as 1 - 2 - 3 Start with a clean Metal Surface
1. Apply Penetrant (Red Can)
2. Apply Cleaner (Green Can) and wipe the Metal Surface
3. Apply Developer (Purple Can) and Easily View Surface Flaws
Non-destructive testing (NDT) has been defined as comprising those test methods used to examine an object, material or system without impairing its future usefulness. The term is generally applied to non-medical investigations of material integrity. Our non-destructive test kit will clearly show the fracture or hair-line cracks and/or leaks as bright red so you can repair the item before further testing and avoid costly re-work of joints, tanks and other equipment.
Non Destructive Test Kit Advantages
Detect surface flaws in advance of further production
Surface defects such as weld under-cuts, pin-holes and cracks are easily visible as a bright red areas on a white background
Test weld integrity to avoid costly rework and rejects due to hairline surface flaws
Repair tanks, boilers, large holding areas before hydrotesting
Detect Surface Weakness due to faults immediately
Excellent quality control system right at the work station, minimizes labor, quality control procedures and handling of the metal structure
Formulated with VCI Corrosion Inhibitors to prevent flash corrosion
Conforms to MIL-I-25135, NAVShips 250-1500, MIL STD 271
---
Kit includes one each of the cleaner, penetrant and the developer to easily view surface flaws as bright red on a white background. Ships by ground only. Three aerosol cans with instructions and MSDS
| VCI Powder for Hydrotesting | Corrosion Control Canada | Corrosion Protection Emitters |
| Military Specifications | More Mil Spec Products | Mil Spec Spec Products Store |