Ferro-Film® XP is now on the QPL (Qualified Products List for MIL-PRF-22019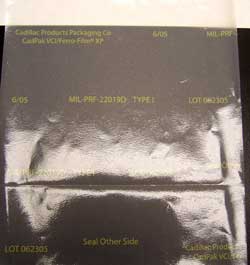 New Ferro-Film® XP passes the U.S. government's highest standards for corrosion inhibitor polyethylene packaging. It is on the "Qualified Product List" for Mil-PRF-22019 as a corrosion-inhibitor treated, flexible barrier material. Used by military suppliers and contractors required to use government-specified packaging.

Testing proves Ferro-Film XP is an excellent barrier against oil, water and moisture, and has superior strength against punctures. Film is clear, transparent, with military-required print that is clean and won't rub off. In addition, the non-stick formulation of Ferro-Film XP makes it ideal for converting into heat-sealed bags, in the types and sizes as needed for military packaging applications.