What's New Get a complete searchable list of recent additions and upgrades to our web content.

Ferro-Film® XP passes the U.S. government's highest standards for corrosion inhibitor polyethylene packaging. It is on the Qualified Product List for Mil-PRF-22019 as a corrosion-inhibitor treated, flexible barrier material.
Perspectives on the Plastic Resin Market Canadian Packaging magazine, October 27, 2005
Daubert Cromwell Products comply with the European Union (EU) Directive on Restriction of Hazardous Substances (RoHS) 2006.....more....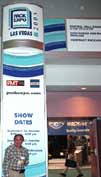 Sept. 26 to 28, 2005 the best show in Las Vegas was on the floor of the Las Vegas Convention Center as 18,000 packaging buyers and decision-makers search through the offerings of more than 900 exhibitors of packaging machinery, materials, components, sensors and controls, converting equipment and packaging-related products.



The show included several specialized pavilions. The Containers and Materials Pavilion showcased packaging materials, containers and converting machinery innovations. Kpr Adcor was there in search of innovative packaging concepts for our valued customers. Look for the new product offerings coming soon at our industrial packaging store.
Vappro-800VCI Degreaser saves 10 year 'build ahead' program for major automotive parts manufacturer.

VCI-2000 film was tested according to military specification MIL-PRF-22019 by an independent lab in Germany (The University of Hamburg) and It PASSED THE TESTS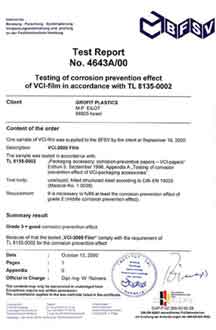 Consumer and industrial customers alike are clearly seeing the benefits of protecting their silver pieces and components inside new Silver-Guard anti-tarnish packaging.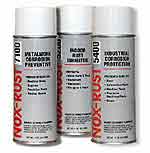 Now available from Kpr Adcor Inc. Kpr Adcor is an authorized distributor of Daubert VCI and other Quality Corrosion Protection Products!
Go here to purchase clearance items at sale prices. Limited quantity VCI products at sale prices, first come first serve, Internet sales only.
Detect Hairline Fractures Pin-Holes or Cracks in Welds, Pipelines, Casings, Tanks and Structures. Military Specifications MIL-I-25135, MIL STD 271, NAVShips 250-1500 and NATO stock number 6850-32-077-3780
Now Available from Kpr Adcor Inc. NDT Nondestructive Test Kit

TOP MANUFACTURERS OF CORROSION PREVENTION TECHNOLOGY ANNOUNCE MERGER
BURR RIDGE, IL (April, 2004) - Two leading manufacturers of corrosion inhibitor technology announce plans to merge and form a new company. The action joins Daubert VCI, Inc., and Cromwell-Phoenix, Inc., considered the two most respected, highest quality manufacturers of corrosion inhibitor products for industry.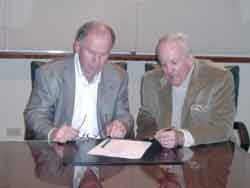 M. Lawrence Garman (left) of Daubert VCI, Inc., and Francis Houlihan of Cromwell-Phoenix, Inc. sign a letter of intent to merge their respective companies.
Kpr Adcor Inc. Mobile Website. Email:

Plastic Perspective (Canadaian Packaging, 2005)
VCI Corrosion Protection Online Store - June 2002
VCI Oil Additive - 1100 New Additive for engine oils and lubricants to extend corrosion protection properties.