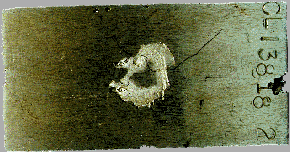 Crevice Corrosion of Stainless Steel -
Crevice corrosion is the localize corrosive attack that occurs as a result of the occluded cell that forms under a crevice on the metal surface. On this stainless steel test coupon from an ASTM G48 Method B ferric chloride test, the crevice was a non-metallic block. Note that the test coupon was not attacked by corrosion except in the middle of the coupon where it was in contact with the block and on the edges were a rubber band used to hold the block in place also came in contact with the metal surface.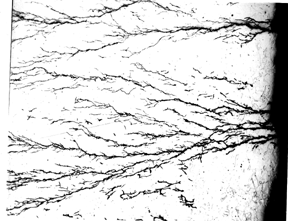 Stress Corrosion Cracking of Stainless Steel
The example shown indicates many intersecting, branched cracks with a transgranular propagation mode. These are typical of stress corrosion cracking (SCC) in austenitic stainless steel. In this case, however, the alloy was reported to be resistant to SCC in the NaCl brine service environment. The location of cracking was limited to a region covered by an elastomeric sleeve. Under the sleeve, evidence of severe general and pitting corrosion were found and evidence of sulfur-containing corrosion products. Analysis of the elastomer indicate that it was not the correct grade and chemical degradation had occurred in service to produce organic acids and sulfur compounds. This local environment resulted in enhanced localized susceptibility of the material to pitting corrosion and SCC.


Localized Corrosion in 13Cr Stainless Steel
In many industrial process environments, stainless steels provide for long term serviceability by maintaining a passive oxide layer on the metal service. The sample in the figure shows signs of local area corrosion from loss of passivity in an aqueous brine containing dissolved carbon dioxide and hydrogen sulfide. The passive regions still show the signs of the original machining marks whereas the active regions show a black corrosion product and extensive pitting. In environments with little or no hydrogen sulfide, this material would be expected to exhibit excellent corrosion resistance. However, the localized breakdown in the protective passive layer in this case is the direct result of relatively high hydrogen sulfide and chloride concentrations in the simulated service environment.